Online Store

NEW FIRST STEP SET: Option A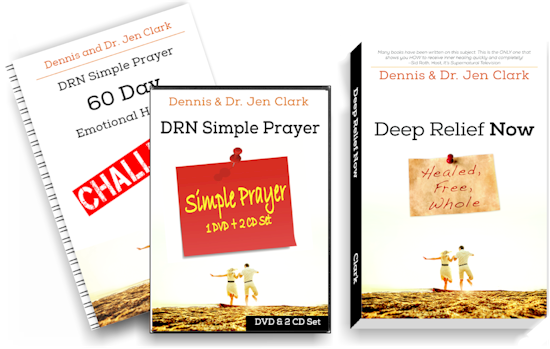 Set includes:
1. Simple Prayer DVD and 2 CD Set
• Instructional DVD
Watch a live demonstration of an individual receiving ministry. Dennis and explains the spiritual process and Dr. Jen explains the physiology of the emotions.
• Daily Prayer Coaching CD
On the Daily Prayer CD, Dennis serves as your personal prayer coach to help you quiet your thoughts and draw near to God!
• Healing Prayer Coaching CD
Dennis coaches you through a private Healing Prayer session by CD using the DRN (deep relief now) approach.
2. Deep Relief NOW
Ready for solutions? The book, Deep Relief NOW, by authors Dennis & Dr. Jen Clark, was written to give you ultra-effective how-to tools that can absolutely transform your life. Experience healing for mental and emotional abuse, inner wounds and trauma.
3. Emotional Healing 60 Day Challenge Journal
The 162-page spiral bound 60 Day Challenge Journal includes daily scripture verses for both devotional daily prayer and healing prayer. Space is included for taking notes.